Have a Cheap and Cheerful Family Christmas
It seems that the cost of Christmas is forever getting higher, with must-have toys and gadgets costing a small fortune. Many of us are facing difficult financial circumstances at the moment, and it could mean making some tough decisions to avoid disappointed faces on Christmas day. If you really can't do without buying those costly presents, you will need to cut the cost of Christmas elsewhere. Here are a few tips to get you started.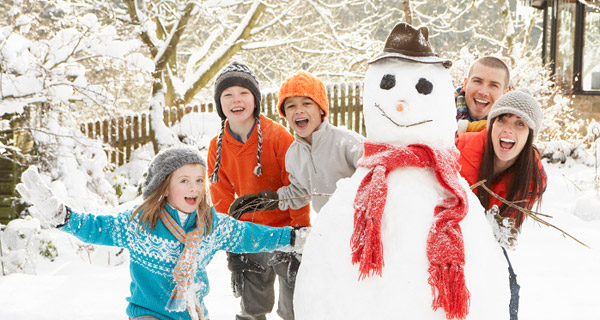 1. The most obvious place to start is food and alcohol, because this is where you can make the biggest savings. We always complain about supermarkets getting out their Christmas stock earlier and earlier every year, but it can work to your advantage if you're on a budget. Start early and buy one or two things here or there that will keep until the big day. Take advantage of special offers on wine or spirits, and try the supermarket's own brand versions of your favourite tipple – you might be surprised at the difference in price. Buy a frozen turkey instead of fresh, and check out the value veg. If you're planning on entertaining, try and avoid the ready-made party food and make your own. Your kids will enjoy helping and, planned carefully, it will save a fortune. There are plenty of budget party food ideas online so get Googling!
2. Agree on a budget per person for present-buying, and stick to it. If everybody knows what the limit is then they won't be disappointed, and it will help children understand and appreciate the value of things, as well as helping you to plan your finances. If your teenager wants an expensive phone or games console, make it clear that that is all they are getting. Grandparents, siblings, friends and extended family will no doubt provide plenty of other presents to open!
3. If you're crafty or you have kids who love to make things, why not create your own Christmas cards, gift tags and decorations? Gift tags are easy - use last year's cards trimmed with pinking shears, hole-punched and tied with gift ribbon to create pretty gift tags for next to nothing. For cards, there are several ways you can do it. Get your kids to design a Christmas card and then scan it into your computer. Print it onto thin card, or onto paper which can then be spray-mounted. Alternatively, use leftover wrapping paper, scraps of fabric and ribbon and any other pretty odds and ends you may have to create the ultimate range of recycled Christmas cards. Finally, why not get your children to help with making paper chains, popcorn garlands or pompom baubles for a real family Christmas feel.
4. If you have small children, second-hand is a great way of getting must-have toys for a cheaper price. Younger children tend not to be too fussy about where their toys come from, and with a good wash and nicely wrapped they will never tell the difference. There are many of ways to get hold of good quality second-hand toys, clothes and games, including nearly new sales, charity shops, ebay, car boot sales, freecycle and facebook pages devoted to local bargains.
5. Rather than buying rolls and rolls of wrapping paper that will just be torn up and thrown away, why not simply buy a few large gift bags from a bargain shop and put a name on each one. When someone buys a gift they simply pop it into the bag. This wouldn't work for small children, but hopefully the adults would be able to resist the temptation to peek! The bags could then be used again every Christmas. If you can't resist wrapping, rather than burning or throwing away the used bits, save what you can for next year and use it to wrap smaller gifts and stocking fillers.
There are lots of little ways to save money at Christmas, which could even help to make it a more family affair. So why not search online for more seasonal money-saving tips and have a very cheap and cheerful Christmas.