Top 50 Cyber Monday Deals in 2013!
UPDATE: Over half of the top 50 cyber monday coupons listed in the post are still active!
You can also click the large image below for hundreds more.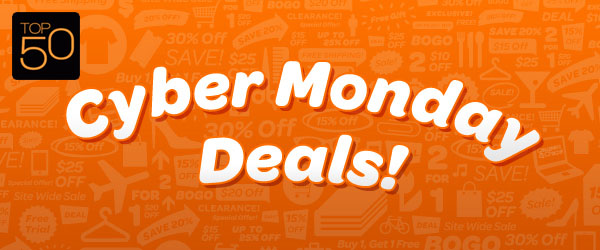 Amazing how quickly the weekend went by along with those Black Friday deals. Yet, savvy shoppers at Coupon Craze know that the real deals come on Cyber Monday. Rather than the usual top 10 lists or specific product deals we know what you really want. You want the broad sitewide coupon offers so you can choose how best to save your money. That is why we went through the over 1,000 coupons posted for today to highlight the Top 50 Cyber Monday coupons availble at Coupon Craze. Nearly all of these deals expire today, Monday, December 2nd, 2013. So act now and good luck savvy shoppers!


AllPosters
40% off purchase [EXPIRED 12/2]


Babies R Us
20% off 1 Regular Priced item


Blue Nile
35% off select Fine Jewelry under $500


Boden
30% off purchase plus Free Shipping [EXPIRED 12/2]


dELiA*s
40% off purchase plus Free Shipping [EXPIRED 12/2]


Discovery Store
25% off purchase


DKNY
25% off purchase [EXPIRED 12/2]


Dockers
40% off purchase plus Free Shipping [EXPIRED 12/2]


Elizabeth Arden
25% off purchase plus Free 14-Day Serum Supply and Free Shipping


Eyes Lips Face
50% off $30 purchase


Famous Footwear
20% Off plus BOGO and Free Shipping [EXPRIED 12/2]


Folica
30% off purchase [EXPIRED 12/2]


GlassesUSA
55% Off and Free Shipping on all eyeglasses and sunglasses


GNC
40% off purchase plus $1.99 Flat Rate Shipping [EXPIRED 12/2]


GUESS
40% off purchase [EXPIRED 12/2]


Harry & David
50% Off select Items


Hayneedle
12% off purchase and 15% off $150 purchase


JCPenney
15% off purchase, 20% off $100 and 25% off $200 purchase


Kohl's
Extra 20% off purchase plus Free Shipping


Lancome
25% off purchase [EXPIRED 12/2]


Lands' End
30% off purchase [EXPIRED 12/2]


Levi's
40% off purchase plus Free Shipping [EXPIRED 12/2]


LimogesJewelry
30% off and Free Shipping w/ $60 purchase


Lucky Brand Jeans
50% off purchase [EXPIRED 12/2]


Mark
30% off purchase plus Free Hook Me Up Tote [EXPIRED 12/2]


Mikasa
30% off and Free Shipping w/ $25 purchase plus Gift


Noodle & Boo
20% off purchase [EXPIRED 12/2]


Origins
$10 off $25 purchase plus Free Shipping [EXPIRED 12/2]


Petco
30% off plus Free Shipping w/ $49 purchase [EXPIRED 12/2]

ShoeMall
30% off $25 purchase plus Free Shipping


SkinCareRX
50% off or more w/ any purchase


Soft Surroundings Outlet
25% off purchase


Solutions Catalog
26% off purchase


Splendid
30% off purchase [EXPIRED 12/2]


Sports Authority
25% off purchase [EXPIRED 12/2]


Steve Madden
30% off purchase plus Free Shipping [EXPIRED 12/2]


Teavana
$25 off $60 purchase plus Free Shipping and Free Tin


Toys R Us
20% off 1 regular priced item